ORIGINAL ARTICLE you can found here: Forbes Ukraine. 
The founder of Augmented Pixels Vitaly Goncharuk is talking about the reasons why his startup has moved to Silicon Valley.
In late March, Odessa startup Augmented Pixels raised $ 1 million from investors in California and The Hive Steltec Capital. The same day the founder and CEO of the company Vitaly Goncharuk announced company relocation from Odessa, Ukraine to Silicon Valley, the United States. In the interview for Forbes Vitali spoke about the absence of differences between Kiev and Odessa, the mentality of people in the Valley and the reasons for moving the company from native Ukraine, while the company is already included in top-20 technology companies in the world in the field of augmented and virtual reality, from native Ukraine
Our startup Augmented Pixels develops technologies in the field of virtual, augmented reality and robotics, as well as specific sales platforms. We have gained a significant portfolio of exclusively Western clients – essentially we do not look for customers from the CIS. This is one reason why we are changing the location – to be closer to our current and potential customers.
The startup was founded in 2011 and has been actively developing since then. We are originally from Odessa, and there is no sense in moving around Ukraine, for example, to Kiev, in the process of business growth. In terms of international business development in the field of IT Kiev is approximately at the same level as Odessa – unfortunately, at a very low one.
In 2014, the destabilization of the situation in the country started, the fighting in the East of Ukraine. It also affected our startup: a large number of foreign companies have put on pause orders for infrastructure projects. It also affects the process of attracting investments: companies with Ukrainian residence find it difficult to attract money, foreign investors are very cautious with local projects. All this has further strengthened our thoughts about changing the country.
In 2014 we moved to California to participate in a start-up accelerator Plug & Play, and then decided to stay. In order to enter new markets and reach active expansion, it was decided to attract investments exclusively from American investors, in search of which our first investors AVentures helped us a lot. The fact of staying in California helped to increase the ranking of Augmented Pixels, and a difficult search for investors turned into choosing the best of the proposals. As a result, we have received investments from The Hive and Steltec Capital and became fully American company. We do not hide Ukrainian roots of the company – on the contrary, it allows us to endear people. Perhaps the most positive feeling about being in California is that almost all of my surrounding thinks not about "taking everything and dividing the budget", but about "how to create something and change the world." Thoughts of people are directed to the future, not to the past. Therefore, they are changing the world, instead of standing still, stuck in fictional conflicts of the past. And no one cares where you are from, what is your skin color and sexual orientation or what language you think on.
Also, it should be noted the American style of doing business and communicating: if you do the best product and work honestly, people are willing to work together and sign up deals literally during the second meeting. In the US infrastructure for IT business is optimized at its best and it is an ideal place to effectively realize your full potential. Silicon Valley – a great place for this: the guaranteed business security and access to the whole community (the presence of thousands of other companies in the same field).
For ourselves, we realized that it is worth the increase in living expenses, rent and tax coverage (life in California is very expensive). Of course everything shouldn't be idealized. We are aware that the United States is the same country as others. There are also criminal areas with dying industry, corruption problems and complicated legislation. For example, in 2014 my car was robbed twice while I was in the United States, which had never happened to me in Ukraine. But the number of pros outweighs the cons greatly. That's why we moved.
Despite its negative background, Ukraine remains one of the best locations for back development office. Moving the head office to the United States helps to keep jobs, employees continue spending money, help families and pay taxes in Ukraine. Moreover, I am very pleased that IT professionals have occupied the first position of highest paid professionals ranking in Ukraine over the past 1-2 years. Their knowledge is liquid on international markets; they make their living with their head, not by means of corruption.
Our country's main problems are the lack of stability and controlled legislation, corruption and deterioration of personal security as a result of people impoverishment. It is critical for IT business, because the programmers are mobile and active people, and if they don't like something, then they have no barriers for moving. Their knowledge is in demand everywhere. IT business is where people with brains are, and liquid professionals can afford to be where the best conditions are.
Such specialists cannot be "fixed" at some territory with restrictive measures. The right conditions should be created for them. However right now Ukraine does the opposite.
Our politicians and bureaucrats have to understand one simple thing – they will be able to receive their salaries from the Ukrainian IT business taxes, only if they become more competitive in running the country than Western politicians and bureaucrats. Now the trend is the opposite, although we can see some positive signs. Entrepreneurs are mostly optimists; therefore I hope that soon we will come back on a positive development track again.
Anyway, my friends' efforts in state reforms allow me to be optimistic.
Best regards,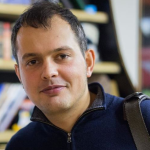 v @ vactivity.com
---
If you like this article, please subscribe to my monthly newsletter: