As i may see existing global generating centers of meanings and concepts relate regional elites to the category of "public services" and actively reduce the percentage of added value, which is given to these elites for their services as renumeration.
How these elites can increase the amount of added value and the subjectivity (the possibility of their participation in global processes and "elevated added value" is meant under the notion – subjectivity)?
The most famous method in the whole course of history is war, which resulted in the regional elite to increase its influence and thereby gain greater weight in global processes.
But in today's world wars have already lost their significance and do not guarantee the ability to enter any niche, since society has ceased to function on the "territorial principle".
Moreover, the physical seizure of the territory significantly reduces the competitive performance, whereas the main resources are the social structure, people and their ability to generate technologies, meanings, ideas, but not "mineral resources". The war destroys society and throws it far back including the comparison to invading society.
If you take a look at the history of developing countries, you would be able to see that the only "ticket to the top" for the regional elites is a long-term specialization of the population in any tech industries, the industrial development of work culture and, as the apogee, – the creation of centers for technology development.
Only in the presence of such technological base regional centers and the elites who govern them, can increase their participation in global processes. All the rest is just the level of territorial municipal service functioning for financial remuneration.
This window of opportunity will remain for as long as the communication technology will continue to be ineffective for the creation of virtual centers, etc.
Best regards,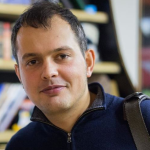 v @ vactivity.com
---
If you like this article, please subscribe to my monthly newsletter: